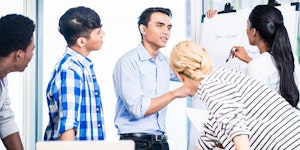 Startup fundraising can be an arduous journey. Wouldn't it be easier if you had your own team of guides to help you along your way?
Team startup to the rescue!
Our team of VCs, financial consultants, bankers, and lawyers has collectively helped walk thousands of companies down the fundraising path — from identifying the best funding source to negotiating the best terms.
Now we'd like to share our common wisdom with you, to help take some of the pain and confusion out of the fundraising process.
Friday, August 4, 2017 from 11:30 AM to 1:30 PM
Join us for this 2-hour session during which we'll cover:
The process of a raise
Pre-money and post-money valuation
Understanding dilution
Negotiating your best VC deal
Term sheets: what you need to know
And more!
Our distinguished panelists for this event are:
Moderator: Caroline Cherkassky, Stubbs Alderton & Markiles, LLP
Panelists: 
Peter Moon, Square 1 Bank
Chris Fitzjarrald, Trinet
Rudy Barthelemy, Early Growth Financial Services
Doug Sills, Moonshots Capital
Frank Grant, Interstate VC
Alex Rubalcava, Stage Venture Partners
Virginia  Schmitt, B Capital Group
Come prepared to ask questions, to network, and to learn how to take your startup to the next level.
Brought to you by: